A passion awakened.
I created this blog only five months ago, yet it's hard to remember a time without it, hard to remember not writing about the medium I know and love. It's funny, I never had a particular passion for English. I enjoyed reading and creative writing was something I did well in, but I never considered journalism or anything similar as a career path I'd like to go down. Then I started writing about video games and suddenly the fire was lit.
My first ever post was a review of my favorite game this generation: Fallout 3. I loved playing the critic and giving my personal opinion. Hitting publish was addictive and every single view sent feelings of elation through me. Two other reviews followed as well as a rant about the inaccessibility of modern day controllers. I loved having my own slice of web space and my family was extremely encouraging. This was just before I was diagnosed with IBD, and so anything that brought a smile to my face brought one to theirs. They also seemed genuinely impressed at the quality of my writing, something I loved them for, but couldn't accept as an unbiased opinion.
Long time readers know what happened next.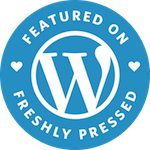 My sixth post was Freshly Pressed! I couldn't believe it when I logged in to the blog. I didn't even know what Freshly Pressed was at that stage. My piece on Drugs in Gaming must have caught one of the WordPress fairy's eye and suddenly my blog's traffic increased rather pleasantly. (In another day or two I'm going to hit 10,000 views, can't wait!)
It was then that I started to get an inkling that not only was writing about video games something I enjoyed immensely, but something that I could do fairly well. I began blogging as often as I could and have amassed over 80 posts at this stage, a respectable number for 5 months I like to think. I've guested on two other blogs to do with gaming and my reader base is slowly, but always, climbing. Recently, I've begun thinking about freelance writing as a career, as something to do permanently. I've never felt this passionate about something before (with the possible exception of bridge), and to be paid to write about video games would be a dream. A dream I'd be willing to work 99% for.
I'm aware of the difficulty and the competition. I'm aware that there are thousands just like me. I'm also aware that I'm the proud owner of a semi – successful Pressed blog who's 16 years old. I have time, I know the medium, and now that the fire is lit, there's no way I'm letting it die out. To quote the Duke:
It's time to kick ass and chew bubblegum. And I'm out of bubblegum.
-Michael